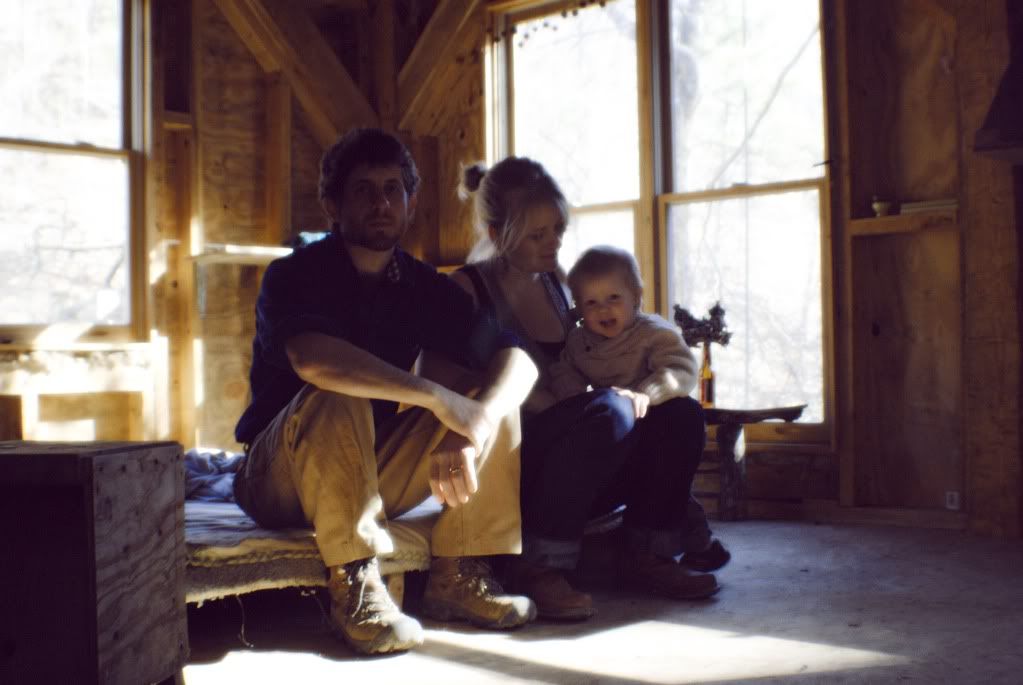 This is inside the cabin down the holler. Asa is asleep outside in the stroller. Perfect place to seek shelter from the rain.

Our best family picture... this one might make it to an actual frame someday.

So difficult to get a picture of us four. I seem to always be blinking, or have my hair in my face. This is close enough. We're in the barn loft, my first official residence on the farm before hitching the bossman. Now this shanty-chic space is prime for guest overflow and the occasional intern. My favorite spot to share a bottle of wine during a sunset or coffee as we watch the sun spill over the hill tops. Our holler is dark in the winter until about 9:30 or 10:00AM.



The unfinished cabin I'm so desprately wanting to move into. It's really only big enough for one person, maybe two, but I'm willing to move the whole brood into the 450 sq. ft. space. What do you think of the stove pipe coming out of the door frame? She's a beauty. A nice sunny spot in the front, great for a garden. A spring just down the lane and a small pond with an occassional heron fishing the few fish who call it home. This was the latest spot for our French shepard friends. As much as they drove me crazy, I miss them.

Our sweet lil' country castle. I wish Asa was in this picture. As you might have guessed, we heat with wood. This is a typical scene for us in the colder months. We just cut down some large box elders in the front so we could construct the playground/ fenced in yard for the boys. What a wonderful morning for a photo shoot.